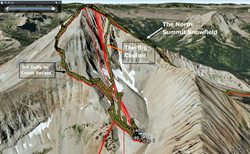 For outdoor adventurer's the Garmin fenix 2 and VIRB Elite action camera combine to create a very formidable force in documenting all your exploits as we have demonstrated….
VIRB Elite action camera captures all the steepest runs at America's biggest ski resort, Big Sky, Montana with the Heart Rate Watch Company test team on April 11th, 2014.
"This is a real test, in real steep terrain where one mistake can mean a slide for life", says Rusty Squire, President of the Heart Rate Watch Company.
"We warmed up on Elk Park Ridge but eventually made our way up to the tram to ski the North Summit snowfields and Great Falls," says Rusty Squire, President of the Heart Rate Watch Company. He adds, "We then hiked and skied Three Forks, a 50 degree face in the Headwaters area, followed by the Big Couloir and the Gullies."
Garmin fenix 2 Remote Controls VIRB Action Camera
"The Garmin fenix 2 GPS watch can act to control the VIRB Elite camera as a remote, thanks to the Bluetooth Smart embedded in both devices," says Squire. He adds, "Unfortunately I forgot to set up image stabilization right away first thing in the morning and that is always a must for skiing."
"For outdoor adventurer's the Garmin fenix 2 and VIRB Elite action camera combine to create a very formidable force in documenting all your exploits as we have demonstrated," says Squire. He adds, "Having all the maps, speed, data, heart rate and the film really is a nice way to share your fun with others."
Connecting A Microphone
"Of course, you can use a micro-USB port to connect a real microphone to VIRB Elite and with a tripod you can film just about anything with great sound quality," says Squire. He adds, "We tested a remote mic and intend to use it with a tripod later this year to do more product reviews and demonstrations."
Point Of View Action
"While action cameras have primarily been used to capture point of view action you can do so much more with them, especially the Garmin VIRB armed with a tripod and a microphone," says Squire. He adds, "We tested it in Hawaii snorkeling, hiking and more with the result being some nice family history type stuff which is really nice to document."
Talk To The Experts
"If you'd like to talk to some real experts about the Garmin VIRB Elite action cameras than simply call us at 866-586-7129," says Squire. He adds, "We think you will enjoy talking with real experts that use the products they sell and we'll hook you up for your next adventure."


For the original version including any supplementary images or video, visit http://www.prweb.com/releases/2014/04/prweb11759952.htm